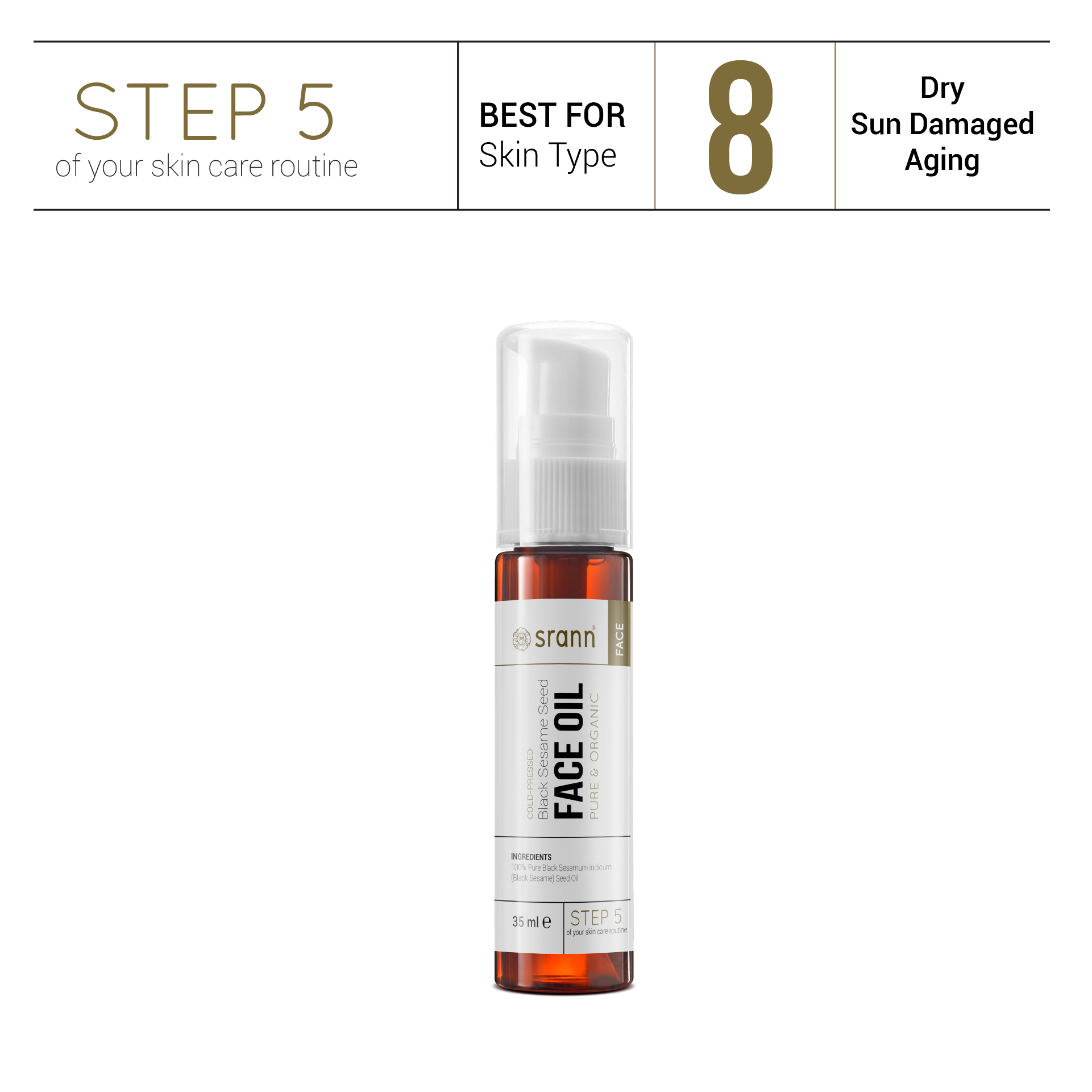 Black Sesame Seed FACE OIL
Cold-Pressed Black Sesame Seed FACE OIL
Pure & Organic
Best for Skin Type 8
Sesame seed oil rejuvenates the skin giving it a healthy glow and helps prevent premature aging. It is especially useful for dry and damaged skins and heals and protects the areas of mild cuts, scrapes and abrasions.
It helps increase skin elasticity and smoothness, tighten facial skin, control the enlargement of pores, and reduce wrinkles. Rich in fatty acids, vitamins and nutrients, sesame seed oil has powerful anti-bacterial, anti-inflammatory, and anti-oxidation properties.
BENEFITS:
1. Natural Sunscreen
If you are trying to avoid chemical sunscreens, then applying sesame oil to your skin is a great idea. It is capable of forming a protective film over the skin to eliminate the damages done by free radicals. The vitamin E contained in sesame oil acts as excellent antioxidant thus it is useful as a natural sunscreen lotion.

2. Moisturizes the Skin
Although there are many natural oils capable of providing moisturizing effect, none of them does quite as effectively as sesame oil. Besides vitamin E, sesame oil also contains linoleic acids, stearic acids, and palmitic acids. It is even safe to use this oil every day for optimum results without any fear of side effects.

3. Slowing down the skin aging
Another excellent benefit of sesame oil for skin is that it slows down skin aging. The oil has an antioxidant called sesamol which effectively prevents the appearances of wrinkles, fine lines, and small porse. There are indeed plenty of anti-aging products that you can use, but sesame oil offers natural benefits without chemical ingredients.

4. Detoxification of the skin
As the outer layer of the body, skin is exposed to almost all dangerous toxins from the environment every day. Luckily, some toxins are soluble in oil, and you can remove them with the help of sesame oil. In this case, you need to apply warm oil to your skin, and leave it for approximately 15 minutes. Wash the oil with warm water without soap for best results.
5. Helps repair damaged skin cells
Although sesame oil is fairly thick and sticky, it is easily absorbed by the skin. In fact, it is often used as carrier oil or base oil, which functions to dilute other essential oils for massage. Different combination of oils is often required depending on individual's skin condition. However, it is safe and easy to mix sesame oil with other types of vegetable oils. When used for massage therapy, sesame oil helps to repair damaged skin cells and improve blood circulation.

6. Reduces Antibacterial Infections
It is totally safe to apply sesame oil to inflamed or wounded skin. As a matter of fact, the oil can help to prevent bacterial infections as it has anti-inflammatory properties. It is not necessary to add other ingredients or mix it with other types of essential oils. As the oil is extracted from sesame seeds, it is already an antibacterial substance. Sesame oil is possibly used for treating certain skin conditions such as eczema and psoriasis.
INGREDIENTS: 100% Pure Black Sesamum indicum (Black Sesame) Seed Oil