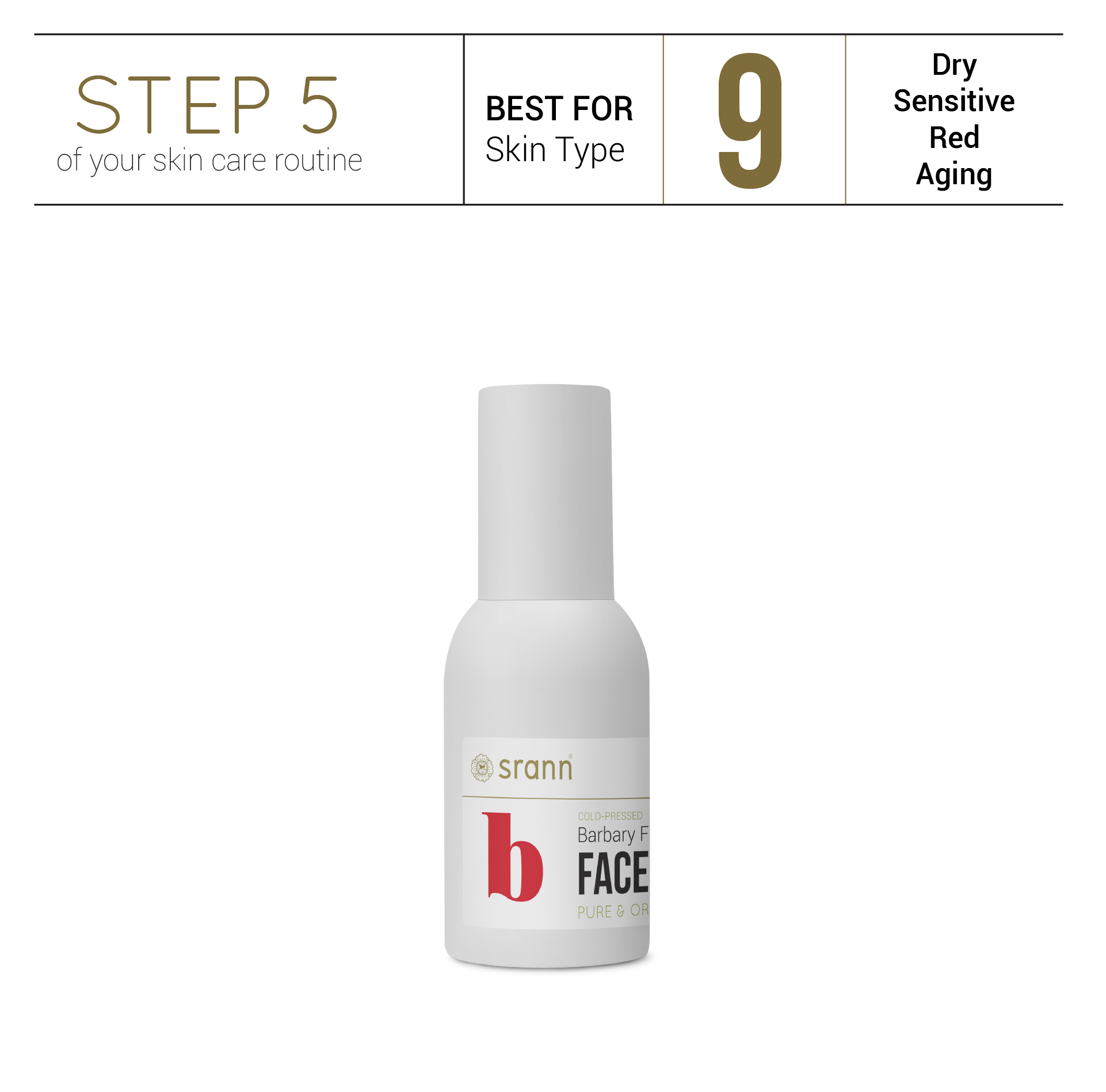 Barbary Fig Seed FACE OIL
Cold-Pressed Barbary Fig Seed FACE OIL
Pure & Organic
Best for Skin Type 9
Morocco's long-held and best kept beauty secret is finally out! Barbary Fig Seed Oil (Prickly Pear Seed Oil) is the most precious natural rejuvenating remedy available today. An amazing youth elixir in a bottle, its benefits are immense:
1. Prevents Wrinkles
Has an extensive Vitamin E content (150% more than Argan oil). Vitamin E is a free radical scavenger and increases cell renewal. The high fatty acid content plumps the skin, reducing wrinkles and adding firmness, as well as intercepting free radical damage.
2. Quickly Absorbed
Penetrates deeply without leaving behind a greasy residue and makes for a great makeup primer.
3. It Restores Elasticity and Brightens the Complexion
High antioxidant activity stimulates cell renewal, leaving you with fresh, new skin. Also reduces redness and hyper-pigmentation.
4. Nourishes, Moisturizes and Softens the Skin
Intensely hydrates the skin, it is suitable for all skin types but works particularly well on dry, mature skin.
A high Linoleic acid content soothes even the most dehydrated skin. It is deeply penetrating – you will not find another oil that leaves your skin softer.
5. Tightens Pores
Essential fatty acids keep the collagen layer of your skin moist and healthy, this keeps your pores tight.
6. Brightens Dark Spots
Unparalleled in its ability to brighten the skin and get rid of dark spots. Vitamin K helps lighten dark under-eye circles and minimize spider veins.
7. Slows Skin Aging
Contains the highest levels of Betalains of any known plant. Betalains are super antioxidants with powerful anti-aging effects.
8. Won't Clog Pores
A high (60%) Linoleic Acid content and a low (20%) Oleic Acid content makes this oil non-comedogenic meaning it will not clog your pores and lead to breakouts.
9. Ideal for Sensitive Skin
This oil is non-irritating, deeply nourishing and soothing. It calms inflammation and hydrates the skin.
INGREDIENTS: ECOCERT Certified Organic 100% Pure Opuntia ficus-indica (Barbary Fig) Seed Oil
Excellent results
I had an accident last month and worried about having scar on my forehead. A good friend gave this oil when I was in the hospital and told me to use it twice a day to heal my wounds. It was amazing that my wounds were healed quickly and no scar on my forehead at all. After using for 1 month then I decided to buy biggest one for my own. Thanks Srann and Jess for excellent oil!
A must of my skincare routine
I've never been a huge fan of the idea of face oils as I immediately think it is going to grease up my skin and leave it super oily. Thanks Barbary oil that changed my idea after trying it for the first time.
Will definitely keep using it
A lovely scent and super-light texture. I noticed a difference in the dry areas within a few days of using this one. I will definitely keep using it.
Best oil for my skin
I tried many face oils but found this one is the best. Will reorder soon!
Exellent for my skin!
My skin is hydrated and softer after first use, so excited :)