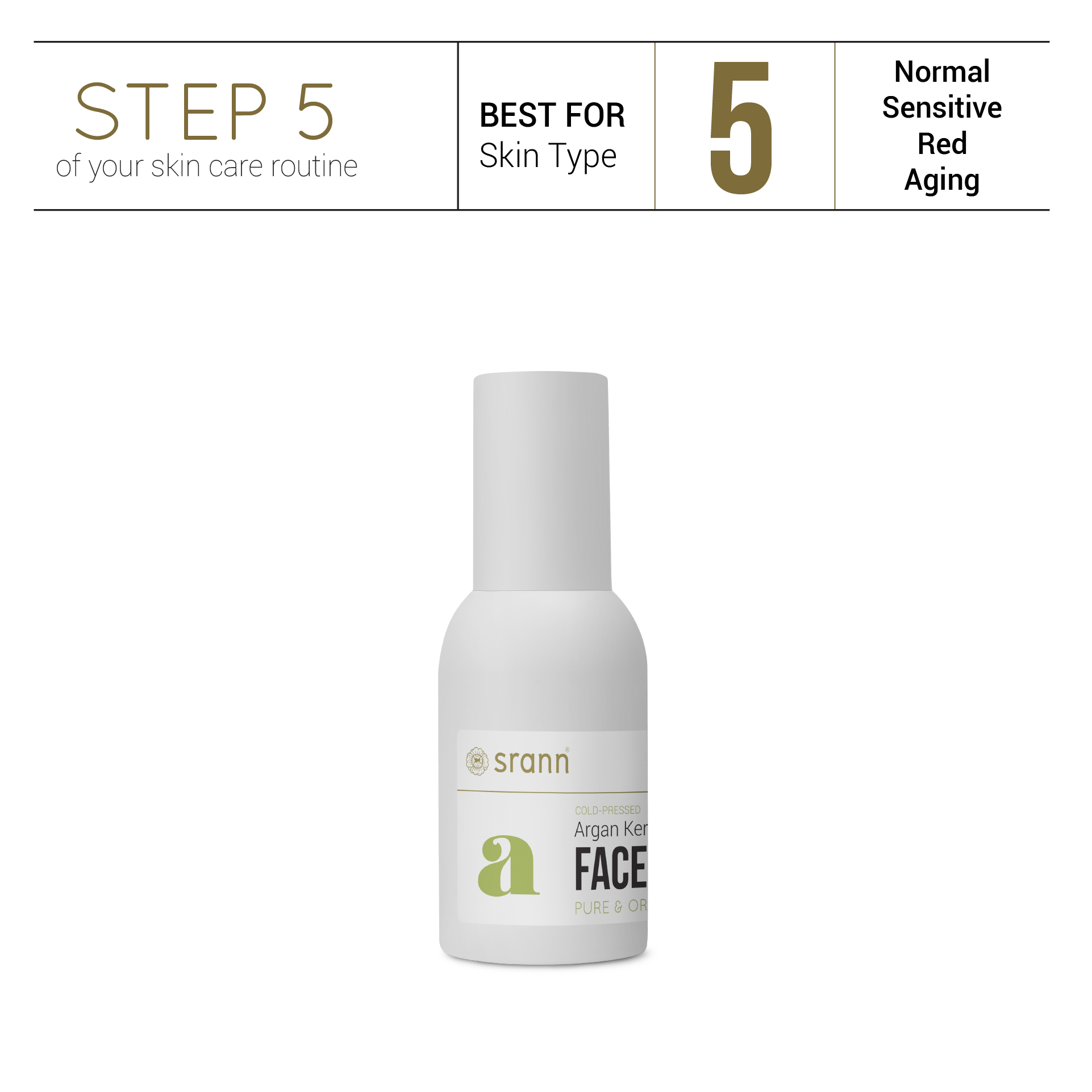 Cold-Pressed Argan Kernel FACE OIL
Pure & Organic
Best for Skin Type 5
100% pure Argan Oil from Morocco can be used for many areas including hydrating and nourishing skin, as a daily moisturizer, skin treatment, treating split ends, and softening cuticles. It's gentle enough to use on all skin types and is believed to help with skin conditions including acne. Argan Oil easily absorbs into skin and gives a youthful, dewy glow, and has astonishing healing, conditioning, and antiaging properties keeps skin and hair nourished and revitalized.
BENEFITS:
The popularity of Argan Oil has exploded since the many amazing health benefits offered by this 'miracle oil' have been made public. Cold-pressed from the fruit of the Moroccan Argan Tree (Argania spinosa) Argan Oil can be used both cosmetically and culinary to improve everything from skin appearance to heart health. 
1. Heals Skin Ailments
The triterpenoids naturally found in Argan oil offer amazing health benefits for skin including the ability to stunt the growth of warts, treat some forms of dermatitis, break down tumorous skin cells, and fade scars. Also, the antioxidants and fatty acids found in Argan oil may also help with the treatment of mild acne and with the healing of acne-related scarring.
2. Reduces Premature Aging
Argan oil is comprised of roughly 80% fatty acids which work wonders to erase signs of premature aging. Regular use of Argan oil has been proven to reduce the depth and severity of wrinkles, as well as to fade age spots by restoring skin's youthful elasticity and by increasing the regenerative rate of healthy skin cells.
3. Protects Against Environmental Damage
Anti-oxidants in Argan oil help to protect skin, hair, and nails from damage caused by UV radiation. Applying Argan oil to UV damaged skin can actually fade sun spots and heal the dry leathery skin that results from over-exposure to UV by promoting the regeneration of healthy cells.
4. Anti-Inflammatory
Flavonoids present in Argan oil have powerful anti-inflammatory properties which can be used to treat both external and internal problems. For relief from sore muscles and joints, massage a few drops of pure Argan oil into your skin over the affected area. Those who struggle with Polycystic Ovarian Syndrome, excessive weight gain, poor digestion, or bladder problems may also benefit greatly from the internal anti-inflammatory abilities of culinary-grade Argan oil. 
5. Prevents Stretch Marks
The healing power of Argan oil on skin doesn't stop with aging and cancer treatments. This miracle oil can also be used to prevent stretch marks from pregnancy, pubescent growth of hips and mammaries, or from rapid weight gain by softening and strengthening skin.
6. Repairs Split Ends
When applied to hair, Argan oil prevents drying and environmental damage by coating the hair shaft. The oil seals in moisture and smooths fly-aways, making hair more manageable and less prone to breakage from brushing and styling. Argan oil can also help to seal in colorants such as henna and amla, increasing the length of time between colorings. Rich in Vitamin-E, Argan oil nourishes hair, repairing split ends, and increases hair's shine and overall healthy appearance.
7. Strengthens Nails
When applied to the fingers and toes, Argan oil helps to promote stronger, healthier nails naturally with high levels of Vitamin-E. The anti-bacterial and anti-inflammatory qualities of Argan oil may also help to fight off nail and skin infections associated with poor nail health.
8. Improves Skin Appearance
Even for those who don't have scarring, wrinkles, or some other skin ailment, Argan oil can still make your skin soft and supple. Saponins in Argan oil reactivate skin cells' ability to regenerate, keeping your largest and most important bodily organ healthy and strong.
INGREDIENTS: ECOCERT Certified Organic 100% Pure Argania spinosa (Argan) Kernel Oil
Recommended for sensitive skin
My skin was damaged by chemical skincare for several years. After using Argan oil for 2 weeks, I can feel my skin is getting healthy.