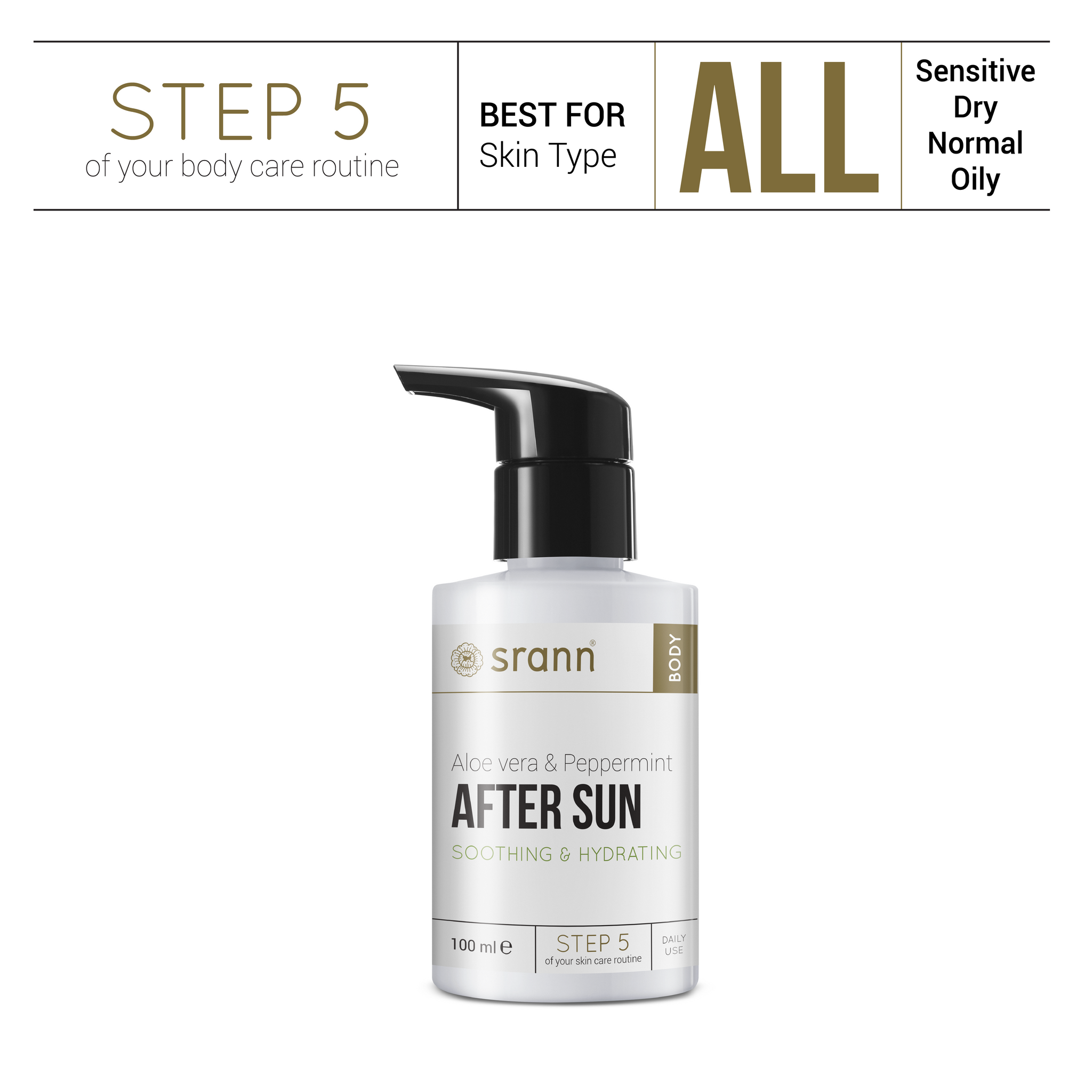 AFTERSUN Body Gel
Experience soothing relief for your skin after a long day in the sun with this non-greasy, fast-absorbing formula. Aloe Vera helps overexposed or sunburnt skin through its powerful healing properties.
It provides a protective layer on the skin and helps replenish its moisture. Rich in antioxidants and minerals, along with its strong anti-inflammatory effects, aloe vera speeds the skin's healing process. Chamomile oil has another potent anti-inflammatory shown to promote wound healing and relieve skin irritation. Peppermint is an excellent pain reliever plus it draws out the heat for a cooling effect. Lavender is nourishing to the skin, encourages healing, and helps fight signs of aging.
Directions
TREATING SUNBURN:
1. Put a cold, damp towel on your skin. Do this for 10 or 15 minutes a few times every day.
2. Use a moisturizer that contains aloe vera or soy to help soothe sunburned skin.
3. Drink extra water.
4. If your skin blisters, don't pop them because that makes the sunburn worse.
5. Take extra care to protect sunburned skin while it heals. Wear clothing that covers your skin when outdoors. Tightly-woven fabrics work best.
6. See a doctor if you feel dizzy, weak, sick to your stomach, cold, or just not yourself.
Ingredients
Water Base Gel, Anthemis Eecutita (Camomile) Tea, Aloe vera Extract, Lavendula Officinalis (Lavender) Oil, Mentha Piperiata (Peppermint) Essential Oil
FORMULATED WITHOUT: SLS, SLSE, 1,4-Dioxane, Parabens, Formaldehyde, Hexachlorophene, Silicone, Synthetic Color, Fragrance
Nice smell & cool feeling
Very good for cool down my skin. I use this aftersun after outdoor workout and found it helped my skin to be less burned